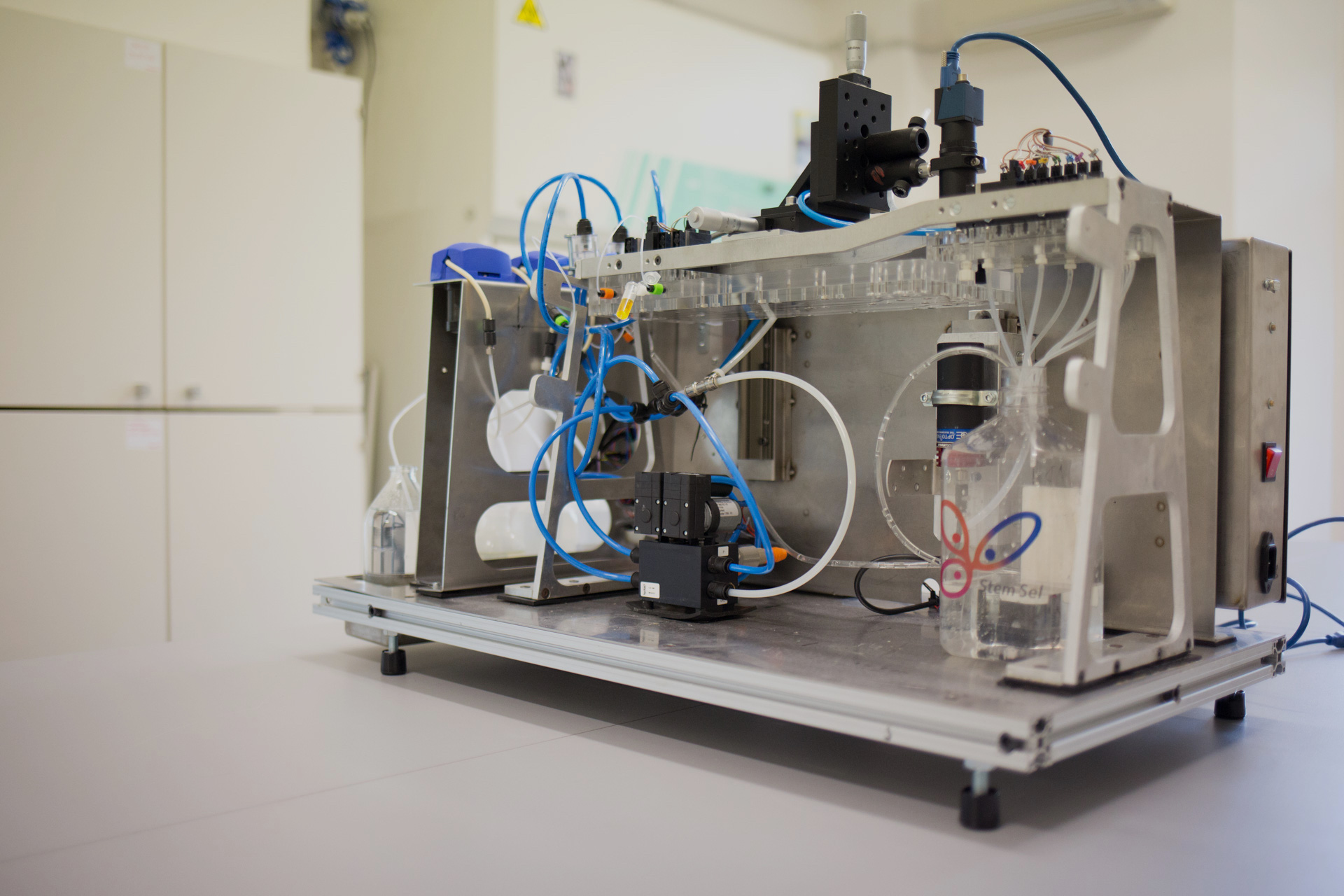 Characterization of the Tissue and Stromal Cell Components of Micro-Superficial Enhanced Fluid Fat Injection (Micro-SEFFI) for Facial Aging Treatment
Authors
Rossi M, Roda B, Zia S, Vigliotta I, Zannini C, Alviano F, Bonsi L, Zattoni A, Reschiglian P, Gennai A
Publication
Aesthetic Surgery Journal, published online 2018 Jun 14
Abstract
Background
New microfat preparations provide material suitable for use as a regenerative filler for different facial areas. To support the development of new robust techniques for regenerative purposes, the cellular content of the sample should be considered.
Objectives
To evaluate the stromal vascular fraction (SVF) cell components of micro-superficial enhanced fluid fat injection (SEFFI) samples via a technique to harvest re-injectable tissue with minimum manipulation. The results were compared to those obtained from SEFFI samples.
Methods
Microscopy analysis was performed to visualize the tissue structure. Micro-SEFFI samples were also fractionated using Celector,® an innovative non-invasive separation technique, to provide an initial evaluation of sample fluidity and composition. SVFs obtained from SEFFI and micro-SEFFI were studied. Adipose stromal cells (ASCs) were isolated and characterized by proliferation and differentiation capacity assays.
Results
Microscopic and quality analyses of micro-SEFFI samples by Celector® confirmed the high fluidity and sample cellular composition in terms of red blood cell contamination, the presence of cell aggregates, and extracellular matrix fragments. ASCs were isolated from adipose tissue harvested using SEFFI and micro-SEFFI systems. These cells were demonstrated to have a good proliferation rate and differentiation potential towards mesenchymal lineages.
Conclusions
Despite the small sizes and low cellularity observed in micro-SEFFI-derived tissue, we were able to isolate stem cells. This result partially explains the regenerative potential of autologous micro-SEFFI tissue grafts. In addition, using this novel Celector® technology, tissues used for aging treatment were characterized analytically, and the adipose tissue composition was evaluated with no need for extra sample processing.
Recent patents and advances on tag-less microfluidic stem cell sorting methods: Applications for perinatal stem cell isolation
Authors
Alviano F, Roda B, Rossi, M, Tanase M, Martinelli K, Marchionni C, Zattoni, Reschiglian P,  Bonsi L
Publication
Recent Patents on Regenerative Medicine 3 (2013) 215-226
Abstract
Interest in stem cell separation and purification from easily accessible clinical specimens is booming due to the increase of cell therapy applications. The recovery of pluripotent or multipotent stem cells in human sources different from the embryo requires the use of effective methods of cell sorting/enrichment. Among these sources, perinatal tissues retain cells with pivotal stem cell features such as high self-renewal ability, wide differentiation potential and immunomodulatory properties. In this perspective, methods exploiting cell biophysical differences in a less dependent process of identification based on specific markers are therefore promising. These methods allow cell isolation irrespective of the broad and diversified surface antigenic panel that usually limits the ability to easily distinguish cells as in the case of mesenchymal stromal/stem cell separation. In addition, the use of non- or minimally invasive tag-less techniques might be a way to preserve stem cell features of the selected product and reduce regulatory issues related to their use in regenerative applications. In this review, non-invasive cell sorting techniques based on microfluidic systems and relevant patents are described. In particular applications of emerging separation approach, Field-Flow Fractionation (FFF), for perinatal stem cell sorting are cited. Protocols and applications based on FFF-derived techniques are detailed.
A tag-less method for direct isolation of human umbilical vein endothelial cells by gravitational field-flow fractionation
Authors
Lattuada D, Roda B, Pignatari C, Magni R, Colombo F, Cattaneo A, Zattoni A, Cetin I, Reschiglian P, Bolis G
Publication
Analytical and Bioanalytical Chemistry 405 (2013) 977-84
Abstract
The analysis of cellular and molecular profiles represents a powerful tool in many biomedical applications to identify the mechanisms underlying the pathological changes. The improvement of cellular starting material and the maintenance of the physiological status in the sample preparation are very useful. Human umbilical vein endothelial cells (HUVEC) are a model for prediction of endothelial dysfunction. HUVEC are enzymatically removed from the umbilical vein by collagenase. This method provides obtaining a good sample yield. However, the obtained cells are often contaminated with blood cells and fibroblasts. Methods based on negative selection by in vitro passages or on the use of defined marker are currently employed to isolate target cells. However, these approaches cannot reproduce physiological status and they require expensive instrumentation. Here we proposed a new method for an easy, tag-less and direct isolation of HUVEC from raw umbilical cord sample based on the gravitational field-flow fractionation (GrFFF). This is a low-cost, fully biocompatible method with low instrumental and training investments for flow-assisted cell fractionation. The method allows obtaining pure cells without cell culture procedures as starting material for further analysis; for example, a proper amount of RNA can be extracted. The approach can be easily integrated into clinical and biomedical procedures.
A novel stem cell tag-less sorting method
Authors
Roda B, Lanzoni G, Alviano F, Zattoni A, Costa R, Di Carlo A, Marchionni C, Franchina M, Ricci F, Tazzari PL, Pagliaro P, Scalinci SZ, Bonsi L, Reschiglian P, Bagnara GP
Publication
Stem Cell Reviews 5 (2009) 420-7
Abstract
Growing interest in stem cell research has led to the development of a number of new methods for isolation. The lack of homogeneity in stem cell preparation blurs standardization, which however is recommended for successful applications. Among stem cells, mesenchymal stem cells (MSCs) are promising candidates for cell therapy applications. This paper presents a fractionation protocol based on a tag-less, flow-assisted method of purifying, distinguishing and sorting MSCs. The protocol entails a suspension of cells in a transport fluid being injected into a ribbon-like capillary device by continuous flow. In a relatively short time (about 30 min) sorted cells are collected. The protocol has been applied to the improvement of MSC isolation, with a specific view to reducing cell manipulation operations, keeping instrumental simplicity and increasing analytical information for cell characterization. Applications such as MSC purification from epithelial contaminants, MSC characterization from various human sources and sorting of MSC subpopulations with high differentiation potential are described. The low cost, full biocompatibility and scale-up potential of the protocol presented could make the procedure attractive for stem cell selection.
A tag-less method of sorting stem cells from clinical specimens and separating mesenchymal from epithelial progenitor cells
Authors
Roda B, Reschiglian P, Zattoni A, Alviano F, Lanzoni G, Costa R, Di Carlo A, Marchionni C, Franchina M, Bonsi L, Bagnara GP
Publication
Cytometry B - Clinical Cytometry 76 (2009) 285-90
Abstract
Background
The interest in stem cell (SC) isolation from easily accessible clinical specimens is booming. The lack of homogeneity in pluri/multipotent SC preparation blurs standardization, which however is recommended for successful applications. Multipotent mesenchymal SCs (MSCs) in fact express a broad panel of surface antigens, which limit the possibility of sorting homogeneous preparations by using an immunotag‐based method.
Methods
We present a tag‐less, flow‐assisted method to purify, distinguish, and sort pluri/multipotent SCs obtained from clinical specimens, based on differences in the biophysical properties that cells acquire when in suspension under fluidic conditions. A suspension of cells in a transport fluid is injected into a ribbon‐like capillary device by continuous flow. In a relatively short time (about 30 min), sorted cells are collected.
Results
We obtained baseline separation between MSCs and epithelial cells, which are important contaminants of isolated MSCs. The extent of separation is evaluated by flow cytometry through detection of a specific epithelial antigen. MSCs from various human sources also prove to have different, characteristic, highly‐reproducible fractionation profiles. Finally, we evaluated the dissimilar differentiation potential among cell fractions obtained from sorting a single MSC source. After differentiation induction, a fraction displayed a differentiation yield close to 100%, whereas unfractionated cells contained only 40% of responding cells.
Conclusions
The results demonstrate that the method presented is able to obtain selected and well‐characterized living MSCs with an increased differentiation yield. Its reduced cost, full biocompatibility, and scale‐up potential could make this method an effective procedure for stem cell selection.
Human lymphocyte sorting by gravitational field-flow fractionation
Authors
Roda B, Reschiglian P, Zattoni A, Tazzari PL, Buzzi M, Ricci F, Bontadini A
Publication
Analytical and Bioanalytical Chemistry 392 (2008) 137-45
Abstract
Interest in biological studies on various cell types for many biomedical applications, from research to patient treatments, is constantly increasing. The ability to discriminate (sort) and/or quantify distinct subpopulations of cells has become increasingly important. For instance, not only detection but also the highest depletion of neoplastic cells from normal cells is an important requisite in the autologous transplantation of lymphocytes for blood cancer treatments. In this work, gravitational field-flow fractionation (GrFFF) is shown to be effective for sorting a heterogeneous mixture of human, living lymphocytes constituted of neoplastic B cells from a Burkitt lymphoma cell line and healthy T and B lymphocytes from blood samples. GrFFF does not require the use of fluorescent immunotags for sorting cells, and the sorted cells can be collected for their further characterization. Flow cytometry was used to assess the viability of the cells collected, and to evaluate the cell fractionation achieved. A low amount of neoplastic B lymphocytes (less than 2%) was found in a specific fraction obtained by GrFFF. The high depletion from neoplastic cells (more than 98%) was confirmed by a clonogenicity test.